Over the final 12 days of 2018, each day we will look back at the year that was for a WNBA team, reminiscing over some of the best moments from the past year and looking ahead to the upcoming year as well. Up next is the Phoenix Mercury, who were eliminated from the playoffs at the doorstep of the Finals for the third straight year.
Season Recap
Record: 20-14, a two-win improvement from 2017
Finish: 2nd in Western Conference, 5th overall
Postseason: Eliminated in Semifinals by Seattle in five games
Awards: Diana Taurasi, All-WNBA First Team; Brittney Griner, All-WNBA Second Team, All-Defensive First Team; DeWanna Bonner, AP Comeback Player of the Year
Leaders: Points (Diana Taurasi, 20.7); Rebounds (Brittney Griner, 7.7); Assists (Taurasi, 5.3); Steals (DeWanna Bonner, 1.3); Blocks (Griner, 2.6); 3-Pointers (Taurasi, 3.2)
Key Offseason Questions
How much longer will the championship window be open?
Diana Taurasi will turn 37 on the same day the Mercury play their fifth game of the 2019 season. And while she is showing no signs of slowing down – her 20.7 PPG last season was her highest scoring average since 2011 – she likely only has a handful of seasons left to try to capture title No. 4.
Of the teams that have won at least three championships, most did so in a small window: Houston won four titles in four years, Detroit won three titles in six years, Minnesota won four titles in seven years. There are exceptions to this rule with LA winning two titles in two years, then getting their third with a completely new cast of players; then there is the defending champion Storm, won the title in 2004, had six years pass before their second and then another eight years pass before their third. While most of that roster turned over from the 2004 team to the 2018 team, the one constant was Sue Bird.
For Phoenix, Diana Taurasi would fill that role as she is the only Mercury player that was part of their first title back in 2007. She was there in 2009 (adding Bonner) and 2014 (adding Griner). Can Diana lead the Mercury to a fourth title a dozen years after she led them to their first?
Will any major changes come to the Mercury roster?
The Mercury have a veteran roster with six players set to enter the ninth season or later in their WNBA careers. This is clearly a team in win-now mode. While they currently holds the No. 8 pick in the first round of the 2019 WNBA Draft, the Mercury may also look to free agency to add additional pieces to the puzzle as they look to break through and get back to the Finals.
Best On-Court Moment
"The GOAT delivers again!"
That was the call from ESPN's Ryan Ruocco when Taurasi drained a game-tying 3-pointer while falling out of bounds in the closing seconds of regulation in Game 2 of the semifinal series against Seattle. Taurasi led a furious Mercury comeback as they rallied from 17 points down with six minutes to play and forced overtime on Taurasi's third clutch 3-pointer in the final 96 seconds.
While the Storm came back and got the win in overtime, the moment that will be remembered from that game is Taurasi's brilliance to force the extra session.
DIANA TAURASI doing 🐐 things #WNBAPlayoffs

— Kobe Bryant (@kobebryant) August 29, 2018
🐐knows 🐐 & @DianaTaurasi is IT!! @wnba @PhoenixMercury Great Game Diana Taurasi !!

— TheBillRussell (@RealBillRussell) August 29, 2018
Taurasi for Three x 1000
Of course, Taurasi knocking down 3-pointers should not come to the surprise of anyone, she's been doing it for years. She was already the WNBA's all-time leader in 3-pointers made (she did that in 2017), but in 2018 she became the first to reach 1,000 career 3-pointers made. She finished the season with a league-best 106 triples, 28 more than any other player. 
Taurasi also became the first – and only – player to reach 8,000 career points. At 8,549 points, Taurasi currently holds a lead of 1738 point advantage over the next active player – former Mercury teammate Cappie Pondexter, who ranks fourth all-time entering 2019.
Bonner's Bounce Back
In the span of a calendar year, DeWanna Bonner went from giving birth to twin girls to representing the Mercury at the 2018 WNBA All-Star Game. It was the second All-Star nod for the ninth year pro. She has also been named Sixth Woman of the Year three times early in her career and was All-WNBA First Team back in 2015.
She finished this season averaging 17.3 points and 7.2 rebounds – her highest marks in those categories since 2012 – while appearing in all 34 games and earning AP Comeback Player of the Year honors.
Trio of All-Stars
The Mercury were well represented at the 2018 WNBA All-Star Game with Taurasi, Bonner and Brittney Griner all named to the team and selected by team captain Elena Delle Donne to be on her squad. However, the Mercury coaching staff, led by Sandy Brondello, was coaching Team Parker, which led to some fun trash talk from Taurasi.
Brittney's Block Party
Brittney Griner entered the WNBA in 2013 and in her six seasons in the league, she has lead the WNBA in blocks per game all six years, including a 2.6 blocks average in 2018. She is already tied with Sylvia Fowles for fourth place on the WNBA's all-time blocks list with 574 rejections; but Griner got there in 125 fewer games. Griner is just 13 blocks shy of passing Lauren Jackson for third all time before looking up at Lisa Leslie (820) and Margo Dydek (877) for the all-time lead.
Best Off-Court Moment
Welcoming the newest member of Mercury family
After DeWanna Bonner's twin girls were born in 2017, the Mercury added another baby to the crew as they welcomed Leo Michael Taurasi-Taylor, the son of Diana Taurasi and Penny Taylor – on March 1, 2018.
Postseason Awards
Diana Taurasi not only breaks records on the court, she does so with her trophy collection as well. She was voted to the All-WNBA First Team for the 10th time, extending her own WNBA record for First Time selections. She also earned her 13th All-WNBA selection (First Team or Second Team), passing Tamika Catchings and Lisa Leslie for the most in league history.
Brittney Griner was voted to the All-WNBA Second Team for the third time in her career (she also has one First Team selection). She was also named to the All-Defensive First Team for a third time (she also has two Second Team selections).
GIF of the Year
Goal for 2019 … be as happy as DeWanna Bonner is in this GIF.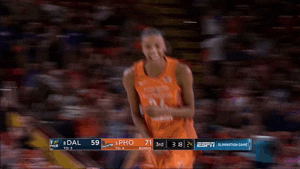 New Year's Resolution
Since the WNBA Playoff format changed three seasons ago, the Mercury are a perfect 6-0 in the single-elimination games that make up the opening two rounds. While being able to win those pressure games is great, the Mercury have been eliminated in the semifinal round in all three years, including last year's five-game loss to the eventual champion Storm.
That semifinal series was the first playoff action for the Storm – who earned a bye past the first two rounds by virtue of finishing with a top two record during the regular season. In fact, all three champions under this playoff format – LA in 2016, Minnesota in 2017 and Seattle in 2018 – all had a bye to the semifinal round.
As the Mercury chase championship No. 4, they can make the road to the Finals a lot easier if they are able to handle their business during the regular season and finish in the top two (double bye to semifinals) or top four (single bye to second round).